Thinking of Buying a Digital Billboard?
If you have been thinking about buying a digital billboard, there are plenty of reasons to do it. First, digital LED billboards are more effective than traditional billboards that sport painted or vinyl messages. LED-lit and animated billboards grab the attention of even the busiest and distracted person passing by the sign, and a LED billboard has crisp visibility day or night. Managing an electronic sign is easy, too. Instead of having to hire a crew to change the sign, you just log onto your computer and use specialized software to create a new message whenever you feel like it. You can even run multiple messages at once, making your billboard advertising more effective.
Buying a Digital Billboard
Cost is the issue that sometimes keeps people from even looking into buying an LED billboard. While it is true that electronic signage does initially cost more than run-of-the-mill traditional billboards, they are more affordable than most people realize. Plus, these types of billboards often pay for themselves through increased revenue that the more noticeable signs generate. Also, because of the multiple message capability of electronic billboards, businesses can purchase highly effective LED signage together, sharing the cost and making it more affordable for everyone. We create digital billboards for advertising, schools, churches, and more.
Buying a Digital Billboard for the Best Price and Value
With the current technology, there is no better time than the present for buying an LED billboard. Genoptic Smart Displays is the industry's leader in digital signs of all sizes, including LED billboards. They have over a decade's worth of experience developing, manufacturing, and installing innovative LED signs in large format, small format, or custom electronic billboards. Additionally, if purchasing a billboard isn't in the budget this year, Genoptic Smart Displays has a terrific leasing program that conserves capital while immediately improving your cash flow, and your lease payment is tax-deductible, too. When you're ready to take your advertising and your bottom line to the next level, call Genoptic Smart Displays.
Digital advertising has already shown itself to be the future of marketing. You can get in on the wave of technologically advanced advertising when you come to Genoptic Smart Displays for a state-of-the-art LED billboard or sign. There's a reason you see LED signs everywhere you go. The fact that they grab your attention proves how effective they are. Vivid, moving graphics will win out over flat, motionless painted billboards every time, and when it's your message on that vibrant LED sign, it's your business that will get noticed, giving the best impression possible to potential customers.
Digital Advertising – LED Billboards
Our signs are designed with cutting-edge LED technology to make your digital advertising stand out with crisp detail and impressive graphics. Our engineers have years of experience building and working with LED billboards that are on a level of sophistication all their own. We're dedicated to enabling you, as the business owner, to take control of your own marketing and grow your business at an increased rate. To that end, we have developed software that is extremely user-friendly. We also put our tech experts at your disposal with access to their skills and experience for as long as you have your new billboard display. Digital signs for outdoor use will catch the attention of anyone passes by.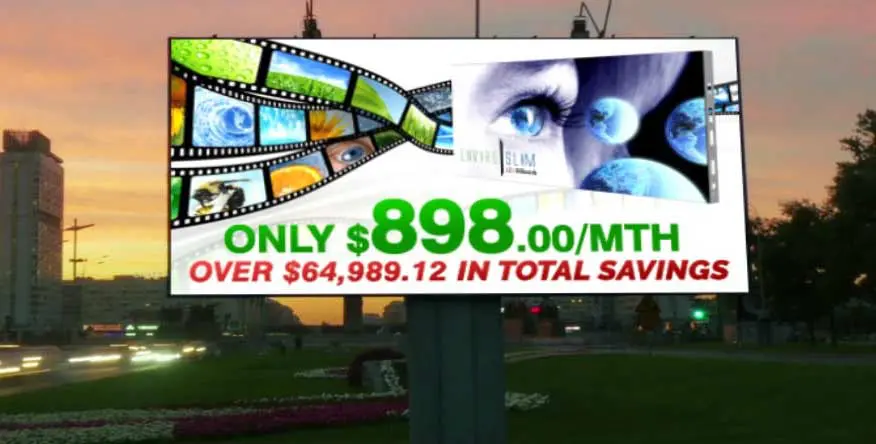 We Can Help Put Your Message In Front of Your Visitors
We know the importance of using only the top quality parts and materials and give you the advantage of our knowledge of LED technology. We will install your LED sign quickly so you can have your digital advertising up and running in no time. We ensure a long life for your billboard by installing an automatic cooling system and constructing a weatherproof cabinet around every sign we build.
Many small business owners, school administrators, and even pastors don't realize all of the various digital billboard uses that will effectively increase exposure and interest. Whether you are looking to recruit or advertise for your church's services or perhaps you are trying to attract a new clientele to your business, LED sign boards are an effective and effortless way to get the word out about your products or services.
There are Many Digital Billboard Uses
Public relations and advertising is the cornerstone to any profitable business. While some business owners are using social media and the internet to advertise for their company's products and services, billboards and LED signage is one mode that will remain effective for ages. Advertising is all about exposure. With a led sign placed in a high traffic area, potential clients will see them often and be more likely to look into your products and services. Perhaps you are a pastor or priest, trying to add new members to your religious community. This is the perfect way to display a hopeful message while also advertising services and religious events.
---
For quick access to more information, support or a quote on digital billboards and signs, please contact us, today.