What is the key to keeping your advertising fresh, fun, and effective? Using a LED screen billboard to advertise your company is one of the best investments you can make for your growing company. While there are many different billboard companies promising the best quality signage that will prove to help you grow your business, Genoptic Smart Displays stands out among the competition. As one of the most trusted, reputable LED signage retailers, we will help you find the right LED screen billboard that matches your company's goals. If you want to maximize business and reach an entirely new audience, we will help you do exactly that through a LED screen billboard.
Establishing trust and familiarity with your potential customers
Creating a loyal following is all about establishing trust and familiarity with your potential customers. We tend to buy from brands we recognize, and what better way to make your brand recognizable than with a billboard that thousands of people will pass daily? If you're not sure which signage is right for your company, no problem! With over 10 years of experience helping clients from a variety of different companies, we've helped them choose from our selection of large outdoor and indoor signs, billboard LED signs, mobile LED signs, and commercial signs. Our signs are all weather-resistant, which means you do not have to fear when the winter hits. Our signs can withstand the harshest winters and the blazing summer sun known to dull the bulbs on sub-par billboards.
What are the benefits of choosing a LED screen billboard to advertise? Well, if you love the idea of using a LED screen billboard to advertise but do not love learning new, complicated technologies, you can rest assured that our LED screen billboard comes with technical support. Additionally, many of our customers are shocked and relieved to learn that advertising with LED billboards does not have to be expensive. Our team will help you find an effective billboard to fit your advertising budget.
Billboard Signs – an effective way to advertise
You've seen how effective billboard signs are for advertising. Larger than life, there they are standing out to catch your attention as you drive along a stretch of highway or even at the hub of an ultra-urban area. Have you ever considered LED billboards for your business? Imagine: if a traditional billboard catches your eye, how much more effectual would a moving, multi-colored image be? At Genoptic Smart Displays, we've seen the future of outdoor advertising and we know that LED signs are at the heart of successful marketing. That's why we specialize in all things LED, including billboard signs.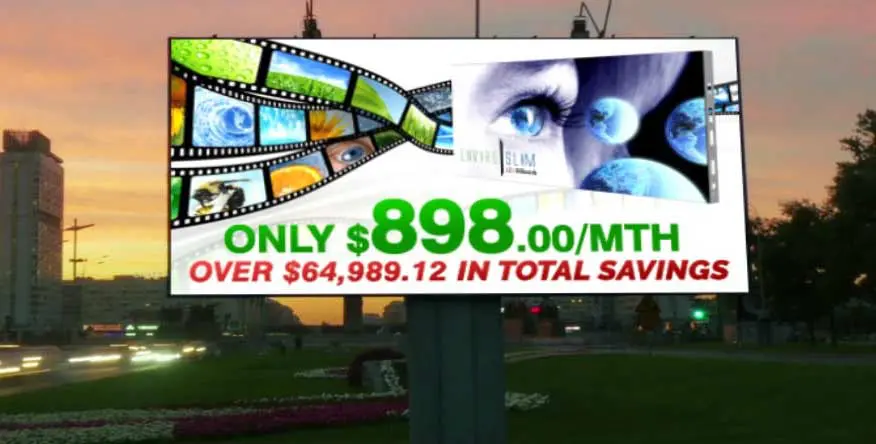 Often a billboard is the first impression a business makes on potential customers.
Vibrant colors and clear images and text are essential to making that impression not just a good one, but a stunning one. You can count on Genoptic Smart Displays to ensure that type of clarity no matter what size of billboard you choose. Our advanced LED Billboard signs are all designed and manufactured using our superior knowledge and understanding of LED technology. We've installed thousands of LED signs around the world, and have the list of satisfied customers to show for it.
Billboard Signs is What We Do – Call Us Today!
Give us a call to join that group of customers who are happy they got their LED billboard signs from Genoptic Smart Displays. We can custom-make an LED sign for your business to fit your budget as well as the space you have. Along with your state-of-the-art LED billboard you'll get free animations and a graphics package, our proprietary user-friendly software and life-time access to our tech and customer service departments as well as an unprecedented five year warranty. We goes the extra mile to ensure you're happy with the choice to go digital.
Electronic billboards are one of the easiest ways for your business to improve its bottom line. Standard print billboards are quickly falling by the wayside as more and more businesses switch to the electronic version. One of the biggest reasons for this is how much cheaper electronic billboards are. No longer are you stuck in having to pay for the entire signage space yourself; electronic billboards make it so that you can share the cost among other businesses. You get the same ad space at a fraction of the price, which lets you expand your advertising plan.
School LED Message Boards
But what other benefits do you get from electronic billboards? The biggest benefit to some businesses is the ease of changing the advertisement. With easy to set up connections you can change the advertisement on an electronic billboard from any computer you have connected to it. That means whenever you have a new sale or a new product to promote, you make the call on changing the ad, not whoever owns the billboard space. You also have a billboard that does not fade, is very difficult to vandalize, and looks great no matter the time of day. LED billboards are even visible at night without any added light, so you keep your costs down.
Electronic Billboards – Best Customer Service – Quality Boards
If you still are not convinced that electronic billboards are the best way to advertise your business then you need to contact us at Genoptic Smart Displays for a free quote. We can go over every aspect of your new billboard that worries you, and help you find a unique solution. We believe in giving the best customer service available, and we want to build a lasting relationship with your business. You need to modernize every aspect of your business, and there is no better way to communicate that modernization with your customers than with electronic signage.
---
For quick access to more information, support or a quote on LED screen billboards, please contact us, today.